I know I have posted about this in the past, but I believe this project got accidentally deleted from my site back when I was doing some major behind the scenes changes.
So here is an updated version – a fun Crafting from Your Stockpile project that can use some of your free paper from Staples like this deal here and here!
Materials you will need:
-Brown Paper Bag (or card stock or scrapbook paper that will be used as the cover.  I wanted mine to have a natural fall look to it, so I stuck with just a brown paper bag.)
-Magazines you can cut out of to make an optional collage on the inside cover of your journal
-Blank white paper
-Hole Punch
-Stick (or dowel that will be used as the book binding)
-Rubber bands
-Other cover decor items (in my case I used a Fall Maple leaf and some ribbon)
-Clear Packing Tape
I took 8.5″ X 11″ paper and cut it in half.  I took a brown paper bag and made a cover from it that was just slightly larger than the inner paper.  In the picture above, I'm just punching out holes with scissors that will line up with the hole punched white paper.
I hole punched the stack of half sheets of paper – 2 punches per page.  I had to use scissors to make the holes in the brown cover though because the single hole punch wouldn't fit where I needed the holes on the cover.  I threaded through a rubber band that went through the outer paper bag cover and all of the inner white paper as well.

I found a stick that I wanted to use as the book binding.  I simply just tied the rubberband around the stick, and wrapped it a few times to make it secure.

I didn't want the inside to be just a boring brown piece of paper, so I found some colorful flower magazine pictures and made a quick collage to personalize this a bit more.
This is what I did to the outer cover – added the leave and the purple and green ribbon.  I covered the entire cover with packing tape just to keep the leave and ribbon from falling off, and to make it a much sturdier journal – even a water resistant cover!
You can easily do this project with your kids and make a fall nature journal out of it.  I like to just put personal memoirs in mine – even just funny quotes that my kids say that I want to remember for years to come.
This certainly makes for a frugal DIY project that is a great way to use that free paper from Staples, and create a fun personalized handmade journal for whatever you want to fill it with!
 If you decide to make one of these yourself – please send me a photo of it and I'll add it to this post!  
If you have any unique crafts you have made from items you get dirt cheap/free using coupons, send them my way for possible posting!
I'm linking up to: Sunday Showcase Party, Made By You Monday, Tutorials & Tips Tuesdays, Link Party Palooza,  The Frugal Girls, Mommy Club Wednesday,  Mom on Time Out!, Someday Crafts  & Saturday SHOW-Licious Craft Showcase, Handy Man, Crafty Woman, White Lights on Wednesday, Seven Thirty Three, Fine Crafty Guild, Ginger Snap Crafts, Life With The Crust Cut Off.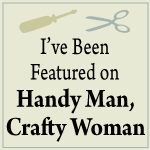 This post may contain an affiliate link. See my disclosure policy.